The ANL's Research Area Straß – A Natural Experience
In 1988, the area was acquired by the Bavarian Nature Conservation Fund and given to the Bavarian Academy for Nature Conservation and Landscape Management (ANL) for research and educational purposes. Since 1995, a renaturation and development plan has been implemented over this area. Significant changes caused by the implemenation of these plans have included altered mowing regimes and the renunciation of any fertilization.
Education
Different types of wetlands that are utilized in a variety of ways are the focus of many events. They can be experienced first hand.
Research
Different methods of mowing are examined during a monitoring project. Long term developments are tracked in the fauna and flora. Recommendations for nature conservation practices are derived from these results.
Research aims include:
Long term research on different mowing methods in various wetlands
Development of standard methods for use during long term investigations in wetlands
Development of practical guidelines for successful control implementation at a regional level
Cooperation partner: University of Applied Sciences at Weihenstephan
Development
Since 1995, the management use as an intensively grazed meadow has changed. The new management regime avoids the use of fertilizers and to any ditch clearing practices. As silt accumulated in the ditches, the surrounding ground moisture increased; at the same time the structural variety and biodiversity rose significantly. Currently, state and local differences have become clearly visible by examining different plant communities. Many extensive wetlands have begun to establish from the previously intensively used meadows, which were poor in biodiversity.
Meadows and use
The different types of vegetation illustrate the different state and local conditions and the specific associated land use. All different mosaics of mowing methods are clearly visible by observing the different compositions of species and community structures in these meadows.
How to get to Straß
You can see how to get to Straß/Laufen in detail in the map linked below.
By car: In Laufen turn towards Burghausen (B20) and after about 2 km, in the village Lebenau turn left toward Straß and follow the signs.
By walking: Walk through Biburg and Schnapping until you reach Straß.
Map of Straß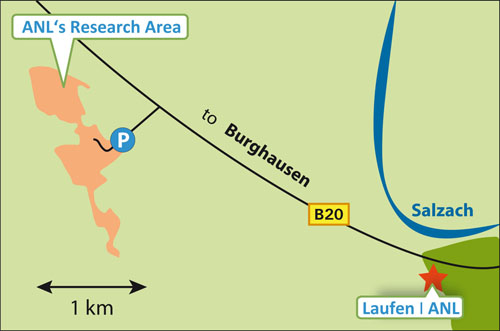 Interactive Map of Straß

The Academy for Nature Conservation and Landscape Management (ANL) is subordinate to the Bavarian State Ministry for the Environment and Consumer Protection. We are responsible for education and training, applied research, and the production of high-quality publications.

International Union for Conservation of Nature (IUCN)
As the first academy worldwide 2010 the ANL became an IUCN member. Joining the international network of experts, cross-border co-operations and international projects are part of our common duties.

more
Informationsangebote
Arbeitsschwerpunkte